You never know who you are likely to meet when you go to dance workshops and events, or how these friendships and relationships will evolve over the years, and when I met Mel and Jo at a dance camp in Leeds, I was struck by how approachable and friendly they both were, and how willing they were to share their dance knowledge with others.
Although they were only new to teaching when we first met, they were confident, capable and enthusiastic, and are now one of the most sought-after Balboa dancing couples, so their hard work has really paid off!
A couple who are not complacent about their own learning, you will often see Mel and Jo joining classes as students along with the rest of us, and it is this hunger for education and passion for improvement that has kept them at the top of their game.
Mel and Jo's dancing style is clear and encouraging, with lots of personal feedback, and their big secret is to challenge students to think creatively and to question everything about their dancing.
Of the pair, Mel is also a great DJ, and it is clear that his early background as a professional DJ allows him to really use the music to create the perfect atmosphere for the dancers. His deep understanding and relationship with the music influences what content and style of teaching goes into his classes, which is why we are pleased to say that Mel will, of course, be DJing and DJam this year! Likewise, it is great to see Jo back up in the North every year as she is a Northern lass herself!
A lovely, extremely inclusive pair, with a great sense of humour Mel and Jo are always great fun on the social dancefloor, dancing with everyone and having a good time.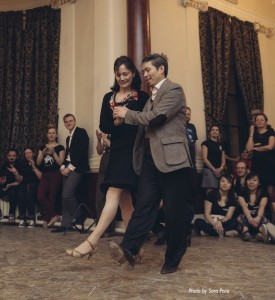 That's why when the opportunity came up for us to invite them to DJam 2018 we were very excited. Want to find out more about these inspiring and sought after teachers? Check out DJam at https://www.dance-at-djam.co.uk!